Serving Our North Texas Communities
Residential & Commercial Tree Services
Thank you for visiting Texoma Trees, a service of L & A Tree Service located in Sherman - Denison Texas. Locally owned and operated, we take pride in everything we do for our clients. L & A Tree Service provides tree trimming, tree removal, stump grinding and chipping services throughout the north Texas communities in Grayson County, Collin County, Denton County, Cooke County and nothern Dallas County. Serving Sherman TX, Denison TX, Pottsboro TX, Bells TX, Whitesboro TX and beyond. Our professional, insured team of tree service specialist can handle all of your tree service needs, from thinning out a hedgerow or tree line, to crane assisted removal of rotted or storm damaged trees.
With over a decade of successful experience in the Texoma Region, you are invited to find out more about what we love best. We love trees! We love to take care of trees, provide lawn care, and services of all types for trees and shrubs with trimming, and removal of unsightly stumps. It's what we do best.
L & A Services Offers For Your Convenience:
Tree Services
Residential & Commercial Tree Services
Performance of Tree Services Safely & Efficiently
Consultation For Tree Challenges
Tree Pruning
Tree Trimming
Tree Removal
Crane Assisted Tree Removal
Stump Grinding
Free Property Evaluation
Emergency Services

Storm Damage Services
Code Violation Services
Professional On-Time Service
Competitive Prices
Free Estimates
Regular Specials & Discounts
Special Maintenance Contracts
Chipping Services
Mulching and Mulch For Sale
And So Much More!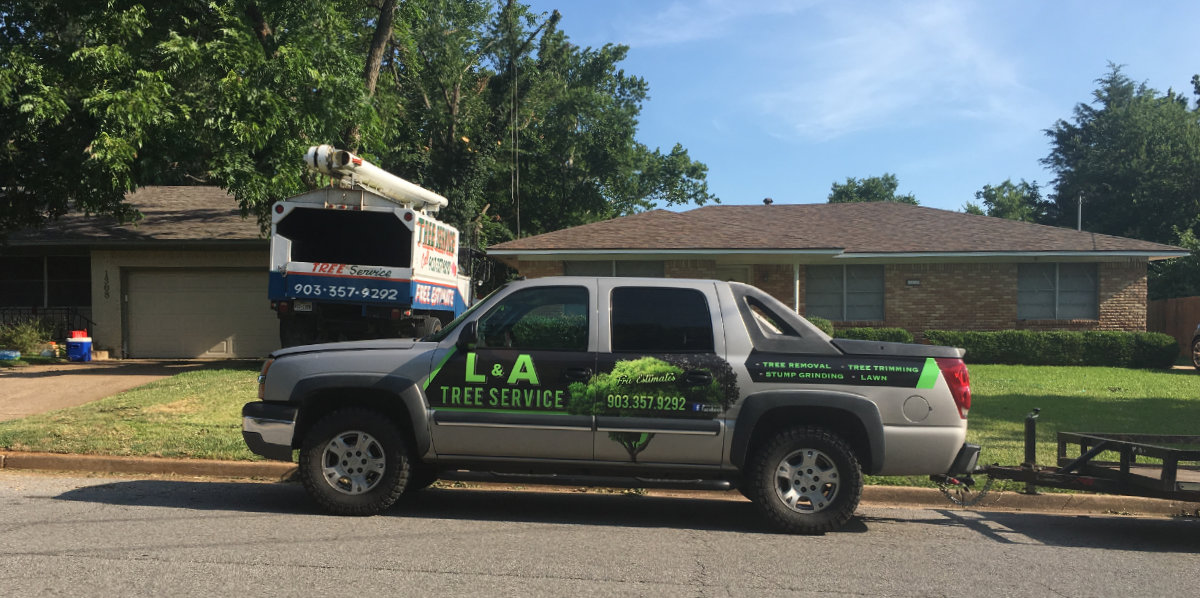 Texoma Trees, a service of L & A Tree Services, is here to provide you with professional services in a timely fashion and insure that you as our client will have a worry free experience. While the list above is just a few of the professional quality services we offer to you in the Texoma Region, please remember we are here to help you maintain your home landscaping, commercial landscaping, and tree services and well as for your institutional and industrial facilities.
Competitive pricing, free estimates, and emergency same day service for storm damage, does insure Texoma Trees will always be the right decision for all your tree care and trimming needs. Evening and weekend appointments are available to better accommodate your specific needs; and providing you with a Free Estimates lets you know what to expect to get the job done.
L & A Tree Services is very well equipped to provide quality services with a special attention to customer service. Our team of professionals can take care of any tree needs from shrub and tree trimming to full tree and stump removal. Remember you receive our best work, and we make sure your property is cleaned up before we leave.
The Safety of our staff and to your home or business is always a top priority, and making sure you are completely satisfied is our main goal. A call to L & A Tree Services is a great way to show you care about your landscaping, trees, shrubs, bushes, and color all year long. Call us and get the job done right the first time, without breaking the bank. We have everything you need to properly take care of all those needs.
L & A Tree Services business is bonded and insured for your peace of mind. Keep 3 things in mind when you call us; the benefits of tree services across the board will enhance the curb appeal of your home or business. In addition safety, beauty and healthy landscapes and trees is critical every week, of every year are the best way to keep all our customers educated about the trees, plants, shrubs, and daily practices.
L & A Tree Service provides tree services in Sherman, Denison, Pottsboro, Bells, Whitesboro, Gainesville, Lake Kiowa, Valley View, Sanger, Pilot Point, Van Alstyne, Melissa, Denton, The Colony, Celina, Prosper, Frisco, Allen, Mckinney and surrounding communities in North Texas.
We look forward to hearing from you with any questions about our company, services, and protecting your property's value and appearance. Call us today at L & A Tree Services 903-357-9292.